HELLO THERE
I really do not like the word "blog", so maybe that is why I stopped "blogging" for a while. But I do enjoy sharing experiences and random thoughts in hopes that someone somewhere gains something from it. So let's blog then, shall we?
I suppose a good starting point is an introduction to me and my company. My name is Carly and I am the person behind Electric Magnolia Studio, which is a creative space in the small town of Grand Coteau, Louisiana. I am a photographer, videographer, designer, and marketer by trade. My husband's architecture firm is part of the studio(and my team) as well. His name is Kelley Courville and his firm is called E + M Architecture. We work on a lot of projects together and overlap in interesting ways, I think. Space, lighting, and sound are just a few of things that are super important to both of our professions.
Kelley and I are now incorporating events into our co-projects list too! We thought that this phase would come later in our lives, like in our fifties or something. We had dreams of hosting locals and travelers for unique events like small concerts, dinner parties, or workshops. But the dream arrived early when this huge historic building became available in walking distance from our little house.
IT'S HAPPENING
We spent a month painting the 2,200 sq. ft. building white inside (plus the 14 ft. ceilings) so that it could be a reflection of us and our brand. The transformation was certainly worth all of the laborious hours and many, many gallons of paint.
Now I am sitting in our studio writing this "blog" exactly one week after our big grand opening. It's real, it's here, and it's time to make some dreams happen…for us and for clients that are ready for their dream homes, dream businesses, or dream events to come to life. This space is a blank canvas that is ready for anything.
WHAT'S NEXT?
There is still a lot to be done in here. I need to start investing in more camera gear, backdrops and a higher quality studio lights. It will certainly be an endless project to build upon until we get everything we need. But we are so happy with the way the interior came out. Feeling good in your work environment is SO important and affects your ability to be productive and creative.
Everything in our studio is easy to move. My desk is even on wheels! We want to be prepared for any kind of event to take over, where we are hosting it or if someone is renting our building out. We incorporated a lot of plant life and bright colors to complement the white walls. Clients will have an easy time customizing the space for their events. We can not wait to throw some great parties here too!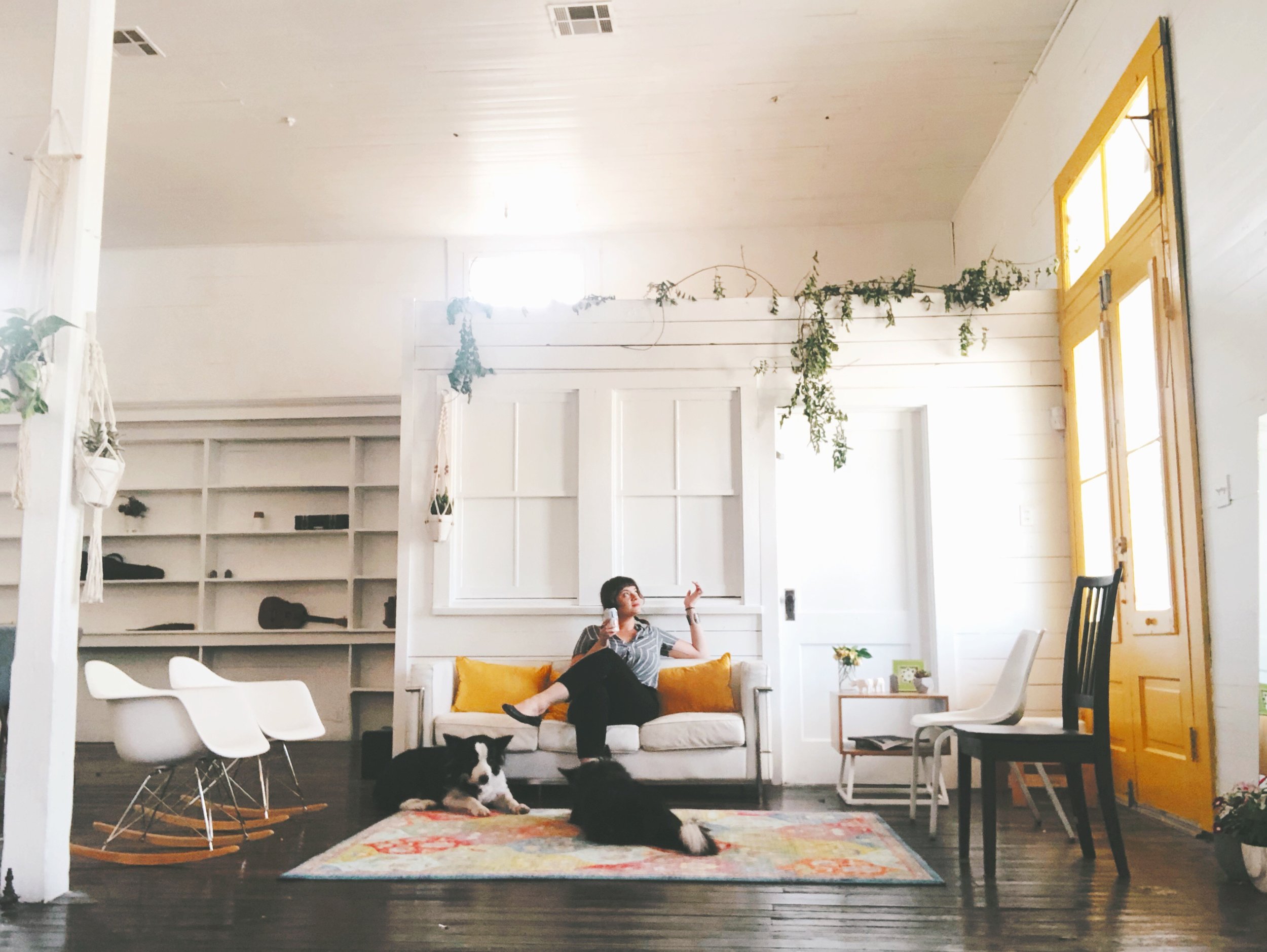 MANIFEST YOUR OWN DESTINY
I manifest my own destiny because this is my life and it is literally the only thing I have control of. Don't let yours slip by and leave you with regrets. GO. DO. SOMETHING. ABOUT. IT.